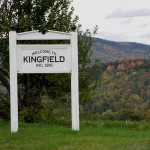 Welcome to Kingfield, Maine
Stanley Avenue is a short stroll across the Carrabassett River to downtown Kingfield where you'll find art galleries, shops, restaurants, a wellness center with acupuncture and massage therapy, a gym with yoga classes, the Stanley Museum located in the historic Stanley School, and the Ski Museum of Maine. For happenings around town see our local paper, The Original Irregular. Links to area businesses are at KingfieldUSA.com.
Kingfield is a beautiful 30 minute drive from Farmington, home of the University of Maine Farmington. Farmington is a great day or evening trip to go shopping in the brick downtown or catch a movie at Narrow Gauge Cinemas. Another nice day trip is Rangeley Lakes, a 40 minute drive through the mountains.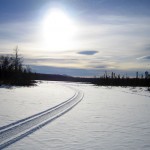 Four Seasons of Outdoor Activities
Ski season is the most popular time of year to visit our neck of the woods. From downhill skiing at Sugarloaf to cross-country skiing on the Narrow Gauge path or the many trails at Maine's Huts and Trails, there are ski trails to suit all abilities. Snowshoe opportunities also abound, along the river, through the woods, or up a mountain.
The famous Black Fly Loop snowmobile trail is just outside our door. The groomed snowmobile trails reach north through Eustis, Jackman and The Forks, west to Rangeley, Oquossoc and New Hampshire, east to Carrabassett Valley, Kingfield and North New Portland, and south to Farmington, Wilton and Weld.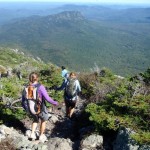 Go take a hike… climb the 4,049ft Mount Abraham, our hometown mountain, explore the nearby Bigelow Preserve with seven summits and the 20,000 acre Flagstaff Lake, follow the Appalachian Trail, or simply walk out the door and walk along the river path. Hop on your bike for a journey along the dirt Middle Rd to the Wire Bridge, one of the oldest suspension bridges in the country — also a great spot for a swim. Swimholes and waterfalls dot our river valley. The most convenient is a block away at the dam in the center of town where locals jump off the bridge into the water (we're not advocating jumping off the bridge!) For an easy waterfall hike head to Poplar Falls, part of the Hut & Trail system. Spend a day whitewater rafting in the Forks. Paddle your canoe around Flagstaff Lake or Gilman Pond or Clearwater Lake.
Maine Guides
Hunting, fly fishing, hiking, moose watching… go with a local guide. Here are a few: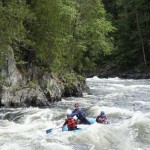 Melissa Shea and Jim Albert – Mountain Guide Service
Bob Dupont – Western Mountains Fly Fishing
Todd Towle – Kingfisher River Guides
John McCluskey – Four Peaks Guide Service

Kingfield area friends, we'd love to exchange links with you. Please email our webmaster.