After 50 years, our restaurant has closed. Thank you for your support over the years!
What's Cookin' Around Town
One Stanley Avenue Restaurant (see menu, hours)
By Kathie Lee, Special to The Original Irregular
KINGFIELD — In the cozy little hamlet that is Kingfield, you will find the charming One Stanley Avenue Restaurant. Stanley Avenue itself was named after the Stanley family who gained most of their notoriety from twins Francis and Freelan Stanley, inventors of the famous "Stanley Steamer." Though no members of the Stanley family ever lived in this stately Queen Anne Victorian home, several members of the family did live in other impressive homes on the avenue. Prior to being designated an "avenue" this was simply a dirt path that meandered through the Stanley apple orchard.
Construction began on this elaborate building in 1899 and was finished two years later in 1901. Built by the well known local builders Lavella and William (Willie) Norton, this was to become Willie's personal home. The Norton brothers built many of the ornate structures located in the Kingfield area. Several of their buildings are now listed on the National Register of Historic Places. The National Historic Preservation Act of 1966 began in an effort to identify, evaluate, and protect historic and archeological resources. The One Stanley Avenue Restaurant was listed in 1982 on the registry as the NORTON, WILLIAM F., HOUSE. One of the unique architectural properties that sets this home apart from other Queen Anne Victorians is the flat top of the turret. Most homes built during this revival period had the more common cone shaped top on the turrets. This rare design helped to qualify this property for the registry.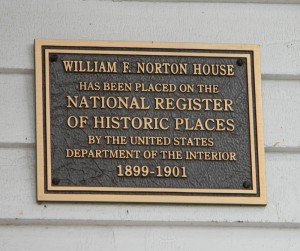 Gables, verandas multiple roof sections, pocket doors, tin ceilings, wrap-around porches, gingerbread all give these Victorians their eccentric stateliness. The One Stanley is a fine example of the grandeur that is "The Queen Anne Victorian." The tin ceilings in the main dinning room are beautifully preserved. Tin ceilings have recently regained popularity as an aesthetic element in design. But, originally they gained their popularity as a less expensive alternative to the sophisticated plaster ceilings utilized by wealthy Europeans.
The One Stanley remained a private home until Dan Davis bought it in 1971. He bought this home with the intention of fulfilling a dream of becoming a restaurant owner and chef.
Davis began his cooking career as a woods cook in a boys' summer camp. He may not have known it then, but this primitive beginning help set the stage for his menu selections today. He then went on to develop his talents as a cook in the Coast Guard Reserves, at times preparing three hundred meals a day. He then added to his credentials by working alongside Swiss and Danish chefs in Vail, Col. This experience gave Davis a foundation in classic continental cuisine.
Several years later, Davis would have the distinct privilege of studying with one of the world's great culinarians, Chef Szathmary. Szathmary would become Davis's mentor. And, in doing so, taught him to "Do it well, with the finest ingredients … do it with your own style and never compromise your standards." A philosophy that he follows to this day.
Traveling throughout Europe in the late 1980s, Davis rounded out his culinary techniques in Austria and Switzerland. Then, finding that it was time to return to his roots, he settled into One Stanley. He would now pool together his years of knowledge in developing a menu for his restaurant that would give his cuisine the local New England flair that he desired. Utilizing distinct ingredients such as fiddleheads, juniper berries and rhubarb, this would become what he refers to as "The Classic Cuisine of Maine."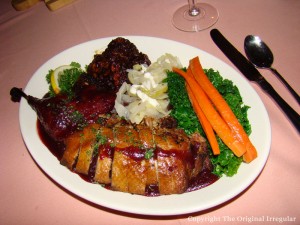 Davis opened the doors just prior to Christmas in 1972 and now in his 36th year of operation, business is going strong. Davis entrusts the front operations of the restaurant to head waitress, Susan McLaughlin. McLaughlin has been at the One Stanley for nine years and is crucial to the smooth running of the restaurant.
Davis decided from the onset to give back in the form of mentoring. He began hiring young individuals from the surrounding area to work by his side. Davis has employed several hundred young chef's helpers over the years, with many of these individuals going on to make careers for themselves in the culinary world. Davis finds it very rewarding to have the opportunity to open up new untapped horizons for these young adults.
Davis has done a wonderful job of restoring, preserving and blending the old with the new, all in an effort to make "One Stanley" his pride and joy. He does this by finding ways to finish additions and interior changes so that they give the appearance of being authentic. The side porch was an open air porch originally and is now closed in with windows all around providing additional dining. The porch is enhanced with a gallery of beautiful period stained glass panels.
Davis began collecting antique stained glass window panels years ago and now has probably one of the largest private collections in the area. Many of the window panels have been installed permanently throughout the house. Some windows have been replaced with stained glass and other areas have been cut specifically to accommodate panels. Davis has purchased his collection from Allan and Candi Soll of Soll's Antiques in Canaan. You will find this truly amazing antique store in Canaan Village on Route 2. Stop in and visit next time you are passing through, you will be glad you did.
Davis is definitely hooked on stain glass; he does profess, "I've got to stop, I have no more walls."
Davis has gone to great lengths to see that any work done on the building is in keeping with the era and tastefully done. Such as the molding for the windows and interior changes and how they blend with the old. To accomplish this he takes a profile slice of the original molding then sends this as a template off to a company in New York, which then cuts custom knives that Davis uses on his own planer –labor intensive and it shows. It is this attention to detail that pulls it all together.
The new kitchen still in the works is pulling together area history in its design. The antique cooler from the original Tranten's general store located in Kingfield has found a home at the One Stanley. The cooler was removed from the store approximately 25 years ago and headed for the dump until Davis spoke up and salvaged this treasure. It had been stored away in his barn waiting for just the right place. It now is conveniently built into the kitchen side of the walk-in cooler and gives easy access through the sliding glass panels to frequently used produce.
Davis also has built a counter in the kitchen and a bar in the parlor from cabinetry salvaged from the old Canaan Inn. The inn was located in Canaan and burned down approximately 30 years ago. It is nice to know that pieces of history are preserved here at the One Stanley.
The original kitchen bird's eye maple cabinets had been removed and stored away for thirty six years. Davis recently put these cabinets back in their original spot and has plans for their full restoration. It is very apparent when you look at all the work done on this building and talk with Dan Davis that it is all truly a labor of love.
This culinary showplace is one of the finest restaurants in the region. The menu has something scrumptious for every palate. Duck, chicken, rabbit, pork, sweetbreads, salmon, lobster, shrimp, veal and beef. After years of fine tuning each entree, Davis has developed a menu that he is extremely proud to present. No shortcuts here, everything is homemade. The whole wheat bread is fresh baked with select grain that he grinds himself. Also, the fresh mixed green salads can be topped with one of several delicious homemade dressings to include the popular "House" tomatoes vinaigrette. The "House" dressing is a recipe passed down from Davis's mother. A family secret –-good luck trying to get the recipe (I tried). I questioned Davis about the original Stanley apple orchard and he was unsure if any of the old trees remained, although there is one very old crab apple tree close to the side of the house that Davis collects apples from every year for his pork tenderloin dish.
To fill your plate (and I mean, fill your plate), you have a choice of rice potatoes or their famous shaker dumplings. All served with fresh vegetables and your choice of coffee or tea. All this decadence comes to you at prices in keeping with other area fine dining. So don't feel like you have to wait for a special occasion to come to dinner here at the One Stanley Avenue Restaurant.
The One Stanley Avenue Restaurant has a relatively short season, open from mid-December through mid-April. Even so, this gives plenty of time to try everything or pick a favorite.
Start your evening or relax after dinner in the warm and cozy parlor. Furnished with a grand piano and period furniture along with a massive grandfather clock which flanks the ornate fireplace. This restaurant has a down-home elegance that is very inviting. Feel free to dress up or come casual, either way you will be welcomed and never rushed.
Davis describes his philosophy about dining out. It should be about the experience, the total experience. "You have got to have the food, the atmosphere and the service all in balance with each other." Rather then being told that his food is good, which it most definitely is, Davis prefers to be told that someone has enjoyed their evening. This all encompassing compliment is what Davis strives for.
RESTAURANT -– This word has been used as an all encompassing term for all types of eateries and cuisine. In fact the word is derived from the French verb, meaning to restore.
It is easy to say that here at the One Stanley Avenue Restaurant you will depart from your dining experience completely satisfied and restored.