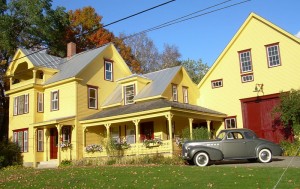 Three Stanley Avenue Guest House, located in a quiet neighborhood just a short walk from downtown Kingfield, was built around 1900 by Bayard Stanley, youngest brother of the famous Stanley Steamer twins.  Due to the closure of One Stanley Avenue Restaurant in the spring of 2022 we no longer offer breakfast or any meal services.
The building houses six rooms; three with private baths and three that share two baths. Guests enjoy the feeling of "coming home." The rooms are cozy and comfortable and are decorated in a Victorian motif. Guests are welcome to stroll our lovely lawns, walk in our manicured woods, or relax in our restored c. 1900 gazebo, formerly the town's band stand.
See our Rates – Free Wireless Internet for all guests.
Seasonal Rates
December – March
Private Bath $95
Shared Bath $85
April – November
Private Bath $90
Shared Bath $80
        ~~~~~~~~~~~~~~~~~~~~~~~~~~
Plus 8% Sales Tax
Breakfast Included
Breakfast 7:30 – 9:00 am
Check in is after 3:00 pm
Check out is 11:00 am
Weekend: Friday, Saturday, Sunday
Midweek: Monday through Thursday
Winter minimum (if Saturday booked): 2 nights
Please call us if you have any questions or would like to make a reservation (207) 265-5541.
Deposit information
A deposit of 50% of the total reservation in the form of a personal check or credit card guarantee is required seven days before the reservation is scheduled.
Cancellation information
A reservation canceled 21 days prior to the arrival date will receive a full refund. If the reservation is canceled within 21 days of the arrival date, then there is no refund, unless the space is rebooked. If the space is rebooked, then we will return the deposit or not process the credit card.